Recently I wrote an article on packing healthy lunches for school for my local newspaper. I discussed options for kids that were healthy, economical, easy, and fun for to eat. I had ordered the Bento boxes weeks ago and couldn't wait to use them.
So tonight I put together their first Bento School Lunches (I packed my lunch for work the next day, too). Bella had been begging me to make the rice bento (like she had seen in a magazine) so that is where the menu started.
While I was making dinner I set aside cooked rice, veggies, and chicken etc. I pressed the rice into molds that belonged to my mother-in-law, and I used cake decorating shape cutters to cut the cucumbers and apples. I searched my pantry and fridge and added in more and more things until it looked nice and everything was snugly tucked in. I wrote a little love not and tucked that in the top with a spoon where there is space for chopsticks in the lid.
Ta dah! I didn't let the girls see, I wanted them to open them at the lunch table.
(sorry the pics are blurry)
rice with sesame seeds, cucumbers cut into stars, apple flower with dired cherry eyes and smile, fried noodles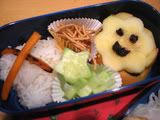 skewered grapes on spinach leaves, sliced stir fry chicken, heart shaped rice with sesame seeds