This weekend is Zo's 6th birthday party. We are returning to the tradition of the "home party". Backyard, food, friends, a some entertainment. Simple and cheap. Yes, I have to clean up before. Yes, I have to clean up more after. But it's worth it.
This year Zoe's theme is Tinkerbell and to make it interesting for everyone we will have some Pirate and Lost Boys stuff too. My husband suggested a sword fight...Uh... I am thinking something more laid back like watching a movie.
For decorations I plan to string up Christmas lights all over the yard. I also made "lanterns" out of mason jars and wire and tealights to hang from the trees. I want it to feel magical and outdoorsy like Neverland.
To carry the magic over to the handful of tables we will set up, I decided to make fairy houses for centerpieces. I pulled out the milk and cream cartons I had been saving and scrounged around the yard for leaves, twigs, and interesting nature to use. Here are the steps that followed:
Step 1- Collected twigs, bark, leaves, moss, etc...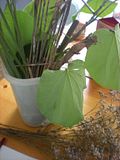 Step 2-Different size and shapes cartons and a piece of cardboard for the "yard"
Step 3- Hotglueing the leaves to the sides of the carton, we also lined up sticks for siding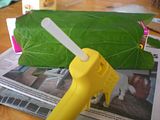 Step 4- Roof made out of Magnolia leaves, cut in half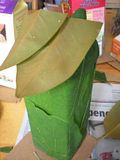 Step 5- Made the yard out of dried roots and twigs for a sidewalk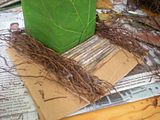 Here is Bella working on hers. Then Zo came in and started her own. I moved onto other things and I kept hearing "Owww!" "Ouch!" because they would forget the dangers of touching hot glue or the hot glue gun tip. Usually that kind of small injury would mean 10 minutes of crying and wrapping their hands in gauze and slings, but they were happy to keep working on their fairy houses.
Zo's finished Fairy House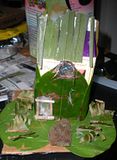 I will post more photos as we finish our houses- we plan to add "human things" the fairies may have found laying around: bottle caps, matchboxes, foil, etc...
These were so fun, easy, and cathartic! I was totally engrossed in trying new elements, thinking what a fairy might use and getting involved in the minuet details! And the kids did a great job, had so much fun and swept the floor after we finished for the night.
Now I am off to the store to buy another bag of hotglue glue (we went through a WHOLE bag in two days).